Trial and E-jury
Online jurors help attorneys while getting taste of justice system
07/18/2000
By Jason Trahan / Arlington Morning News
Chris Bagby watched the online poll on the guilt or innocence of a defendant featured on Dateline NBC flash in a corner of his television screen.
"The responses were in the thousands," said the Arlington lawyer-turned-online entrepreneur.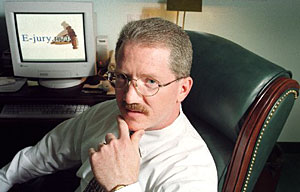 J. Mark Kegans / AMN
Arlington attorney Chris Bagby is the founder of www.E-jury.net, Tarrant County's first and only mock jury service.
"I thought if there's that many people willing to vote for this, I could start mock trials."
A year ago this fall, Mr. Bagby began http://www.e-jury.net/, which allows attorneys to get feedback from online jurors for a fraction of the cost of hiring live mock jurors.
For between $200 and $1,000, an attorney can submit summaries of both the plaintiff's and defendant's side of a case, as well as specific questions designed to get jurors' personal feelings about the case. After 50 jurors log in and render their individual verdicts, their responses are tallied, bound and delivered, usually within one to two weeks of the case being posted.
A demographic breakdown of the responding jurors is also included. Currently, there are about 150 Tarrant County residents signed up as e-jurors. They receive about $7 per case, on which they spend between 30 minutes to an hour reviewing.
"It certainly sounds like an interesting idea and one that has potential," said Laurence Reece, a Boston lawyer and co-chairman of the American Bar Association's computer and Internet litigation committee.
"One of the difficulties in utilizing jury consultants is they are expensive. This approach seems to address that issue. What lawyers often look for is really a second opinion from regular folks. This service appears to be a way of doing that.
"Obviously it's not as good as having real live human beings who you can actually meet with and talk to, but if certainly sounds like it's better than nothing," he added.
Arlington plaintiff's lawyer Jeff Hansen, who has submitted four personal injury cases to www.E-jury.net, said attorneys don't have to be computer savvy to use it.
"Chris does all the work of putting it together. I just do what I would normally do if I was preparing for trial."
He said getting 50 perspectives on a case is an invaluable resource, especially for the price of one deposition.
"The cost effectiveness is a plus," he said. "To get this information from live mock jurors would cost from $4,000 to $20,000. Plus, you couldn't get 50 jurors to listen to a mock trial."
Perhaps the most valuable service provided by www.E-jury.net is statistics showing the percentage of liability for the various parties in the case and the average money awards decided upon by jurors, he said.
"It helps you to understand the value of your case," he said. "You get a disinterested, third-party perspective of the damages and the merits of the claim. That is something you can use in mediation to show the other side, or as part of your war chest when going to trial. It can also be helpful in educating my client as to the value of his case."
Being an e-juror gives fans of popular television legal dramas a chance to participate on real cases, one participant said.
"I've really enjoyed doing it," said Mr. Tom Hall, a 33-year-old accountant for a Fort Worth health care company who has been an e-juror from the beginning. "It's got the same appeal of watching TV shows like Law & Order and seeing the different ins and outs and complications and being able to evaluate that."
The Arlington resident said assigning blame is one of the most difficult aspects of rendering verdicts.
"You have to evaluate the credibility of real people's stories and decide what should be done. I tend to try to put myself in both people's shoes. If I were the defendant, what would I have done, or if I'm the plaintiff, am I reasonable in what I'm seeking? A lot of times, there is equal fault."
He said the pay, which is close to what real jurors are paid, ensures that people will not simply log on and submit verdicts for money.
"There's enough money where I am able to take the family to movies and dinner once a month as a nice little treat."
Mr. Bagby, 33, said trusting the integrity of the system is the biggest hurdle for lawyers to get over before they will submit cases. So far, he said only himself, friends and family - including his father - have supplied the dozen or so cases to www.E-jury.net
"When I went to law school, I went to do my legal research on computers. My father, to this day, uses his law books. As the number of attorneys my age and younger grows, more attorneys will use computers. The old guard is having the hardest time."
He said although the focus of the service is in Tarrant County right now, he has been signing up jurors in Dallas, Austin, San Antonio and Houston, almost exclusively through word of mouth.
"If this thing continues to work here and around Texas, there's no reason to think that it couldn't be done all over the country."